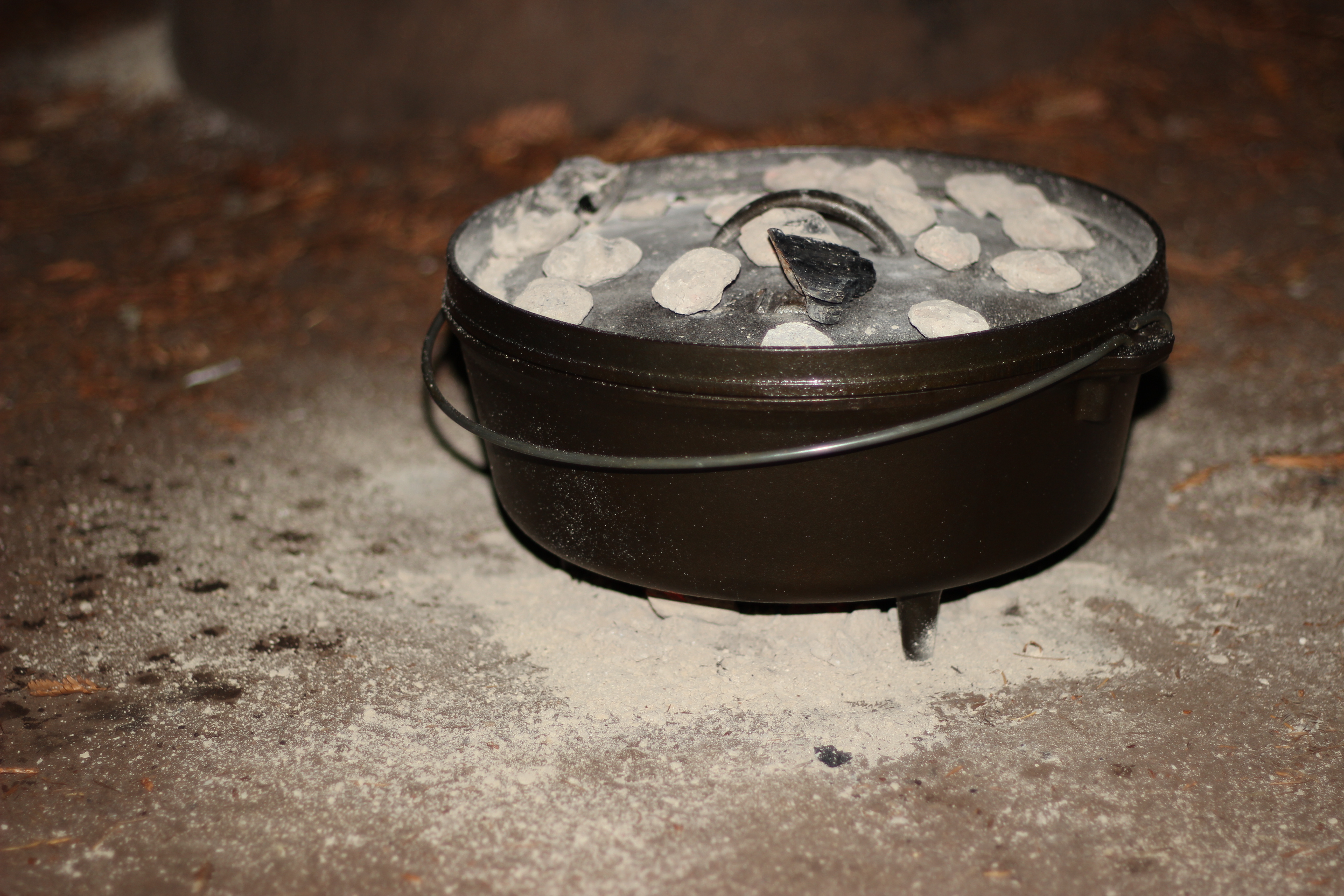 Even though we were camping the Fri-Sun immediately following Thanksgiving and had left tons of food back home in the fridge, I was just too excited about my new cast-iron Lodge dutch oven to not try out new recipes.
Seasoning the new dutch oven at home was quite an adventure, but at the campsite everything turned out well. I was pleasantly surprised! The recipes were chosen to try the different ways to use my new cookware, as an oven (coals on top and bottom), a pot (coals underneath only), and a griddle (the lid flips over and doubles as a non-stick griddle…kind of amazing!!).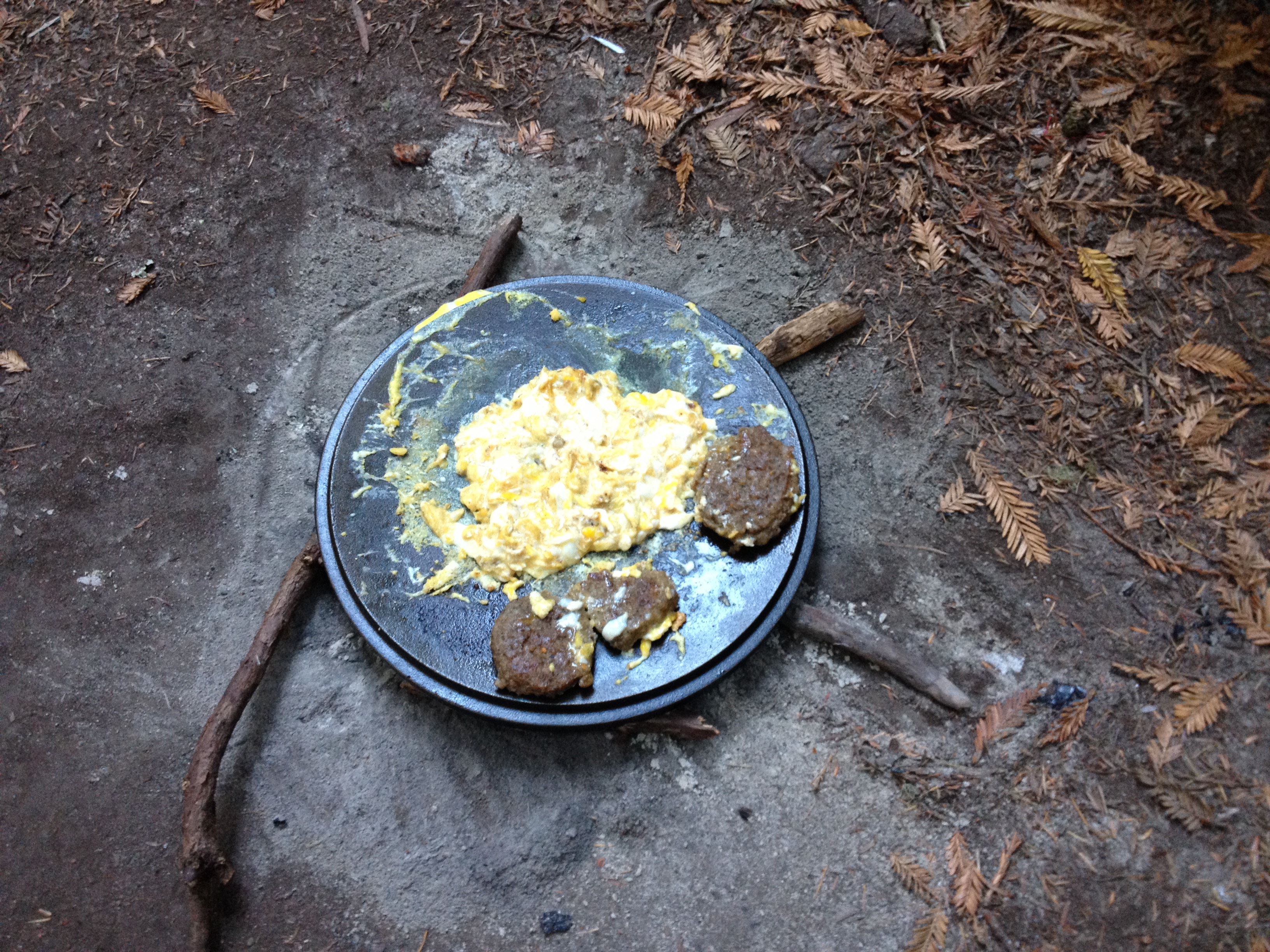 The dutch oven menu items were:
peach and pear camp cobbler
, griddle sausage and eggs, and spicy sweet potato stew with biscuits. Steaming stew and biscuits are the absolute perfect thing to eat on a chilly November evening just after the sun has set. I will definitely be making this recipe again.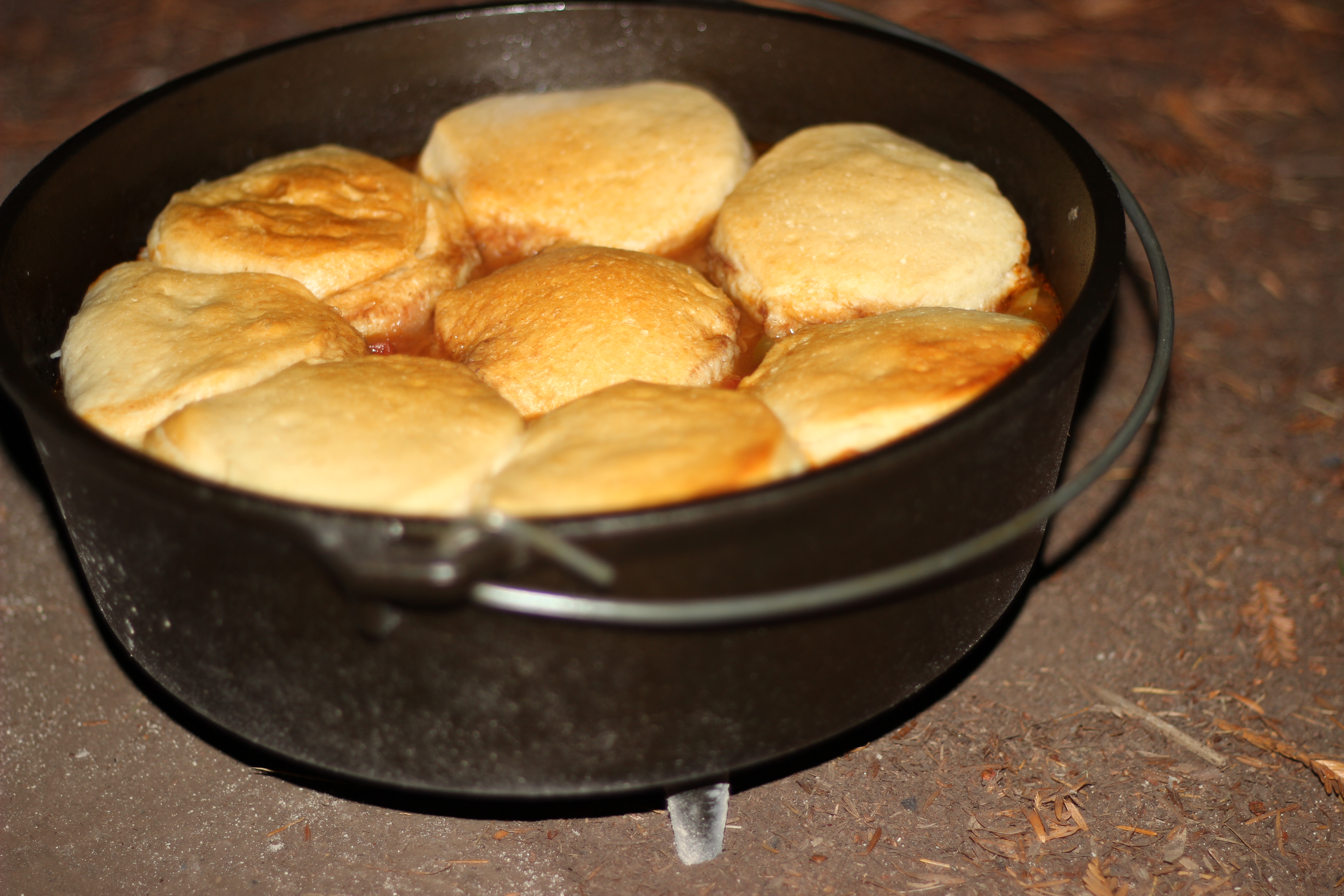 Before I get to the recipe, here are some things I learned.
– Use more charcoal. I am impatient about heating up the pan and should not skimp on the coals. I had read about the correct number of briquettes to use to achieve certain temperatures. I counted them out in the fire pit, doused them with lighter fluid and waited the 15-20min for them to reach a nice smolder. I then placed them in the checkerboard pattern below the dutch oven, waited another 5 to 10 min for my oil to heat and tossed in some diced onion. No satisfying sizzle. Minutes later, barely a hint of cooking happening. How was this going to heat an entire pot of stew to a low boil if it couldn't even cook a tiny bit of onion? I'm sure the guide was accurate for baking or slow cooking in the dutch oven, but for my cooking style I've decided that briquettes don't need to be counted out, and throwing a few extra down is totally worth the speedy results.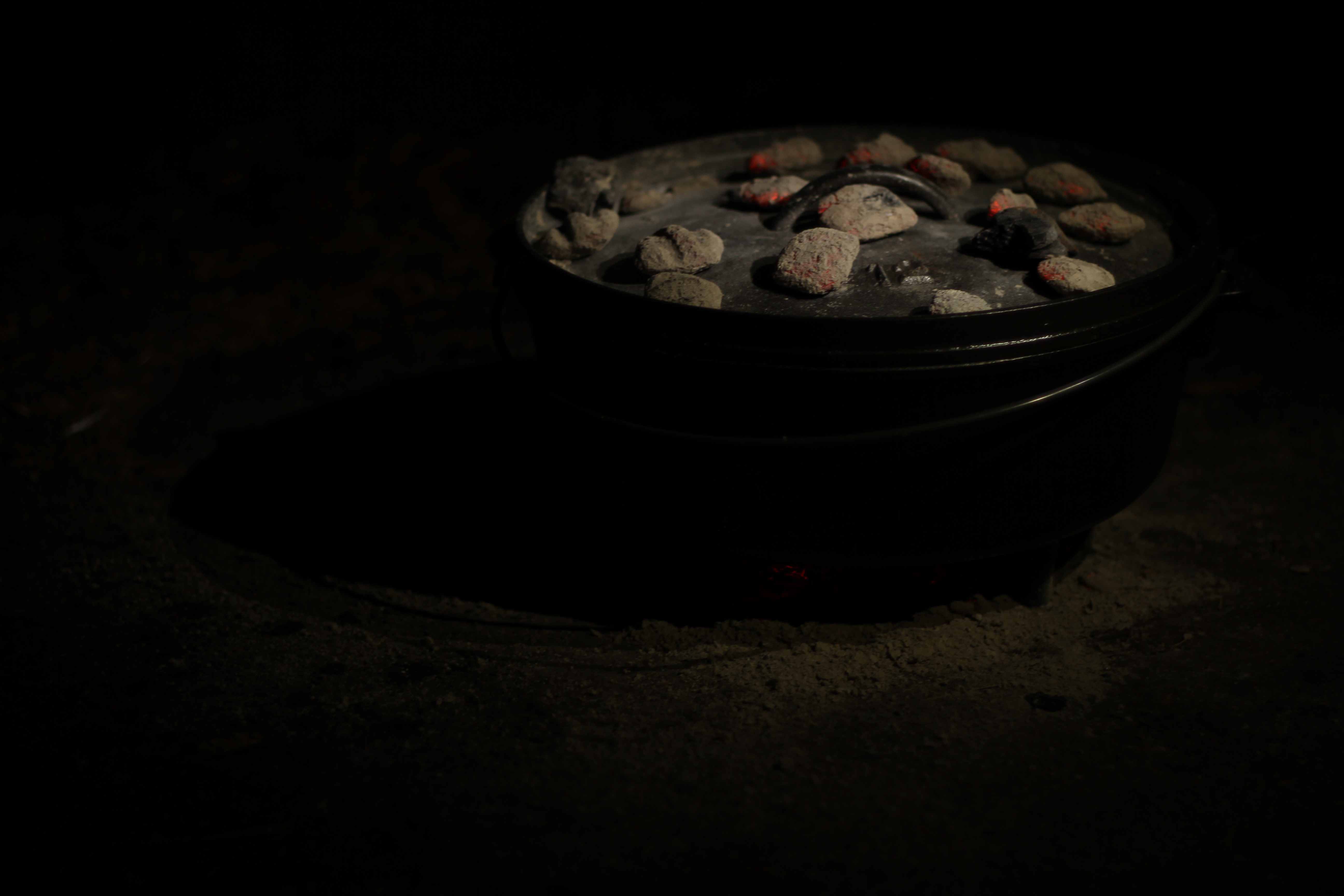 –
Have a side fire
. On the opposite end of the spectrum from using a given number of briquettes per pot diameter to reach a certain temp, is the method of simply putting the dutch oven in the pit on coals from burnt logs. I haven't tried this method for cooking effectiveness, but I don't think I will. The briquettes are convenient to use, they heat quickly, burn for a good amount of time, and allow an amount of predictability. Unless I was spending all day at the campsite, by the time I made a fire and got my logs to be coals, I would be quite hungry and I'd have to put out my fire while I cooked. Having a fire in the fire pit and transferring briquettes to my nearby cooking area seems like the way to go.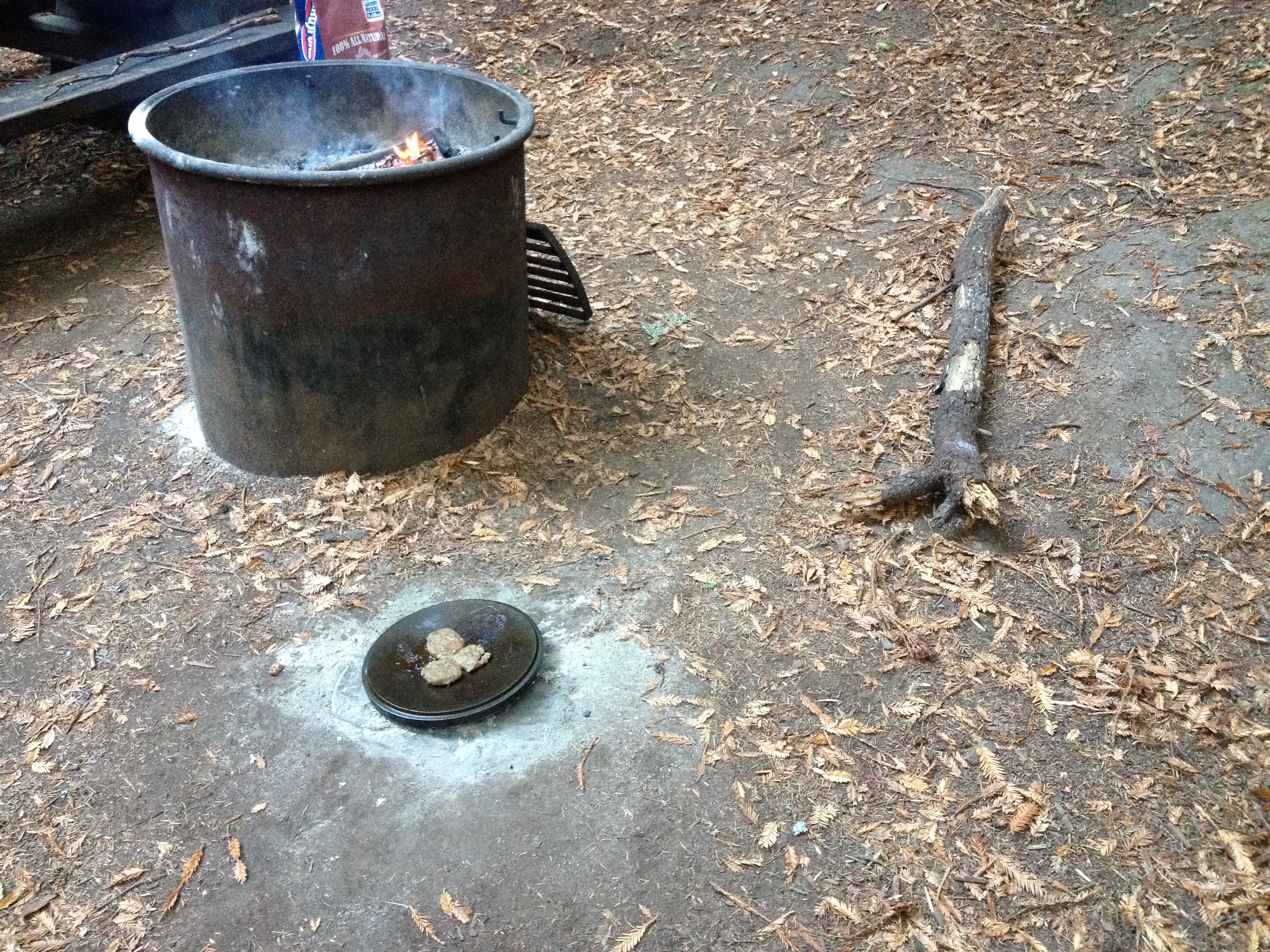 –
Accessories are luxuries
. When researching and buying my dutch oven, I saw lots of accessories in use, and claims that you would not want to be without a charcoal chimney, a dusting broom, etc. Not willing to commit to so many things, I took heavy duty grill tongs, charcoal, lighter fluid, and the dutch oven. It went just fine. The coals lit perfectly in the fire pit without a chimney; ash was removed easily enough by blowing it away, and I was able to lift the pot by putting the handle at the V hinge of the tongs and lifting. Medium sized twigs worked well to stabilize the lid as a griddle. Over time I will acquire fire gloves, an extra dusting brush, etc. but people who want to start dutch oven cooking without this gear should go for it! It's totally doable without accessories!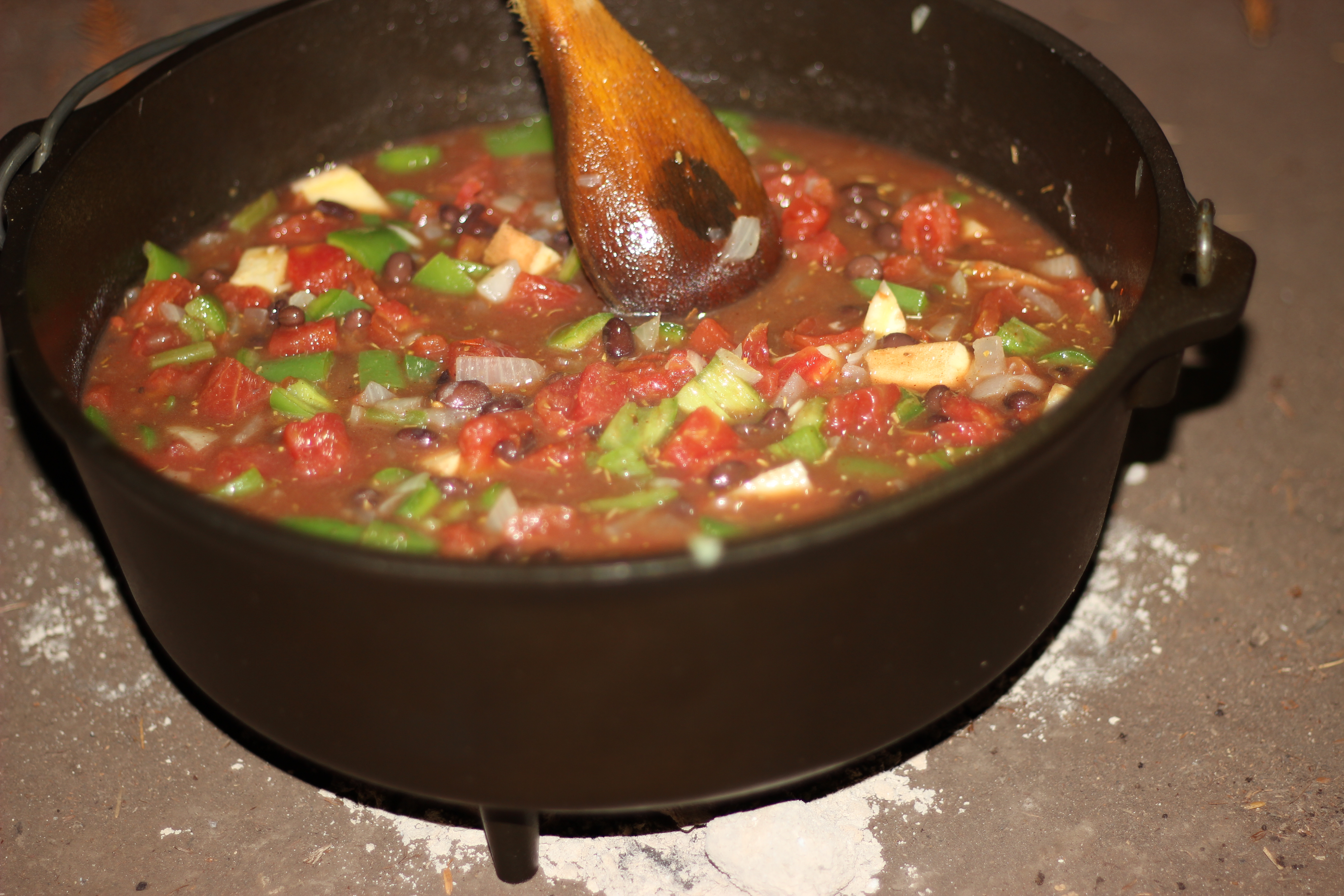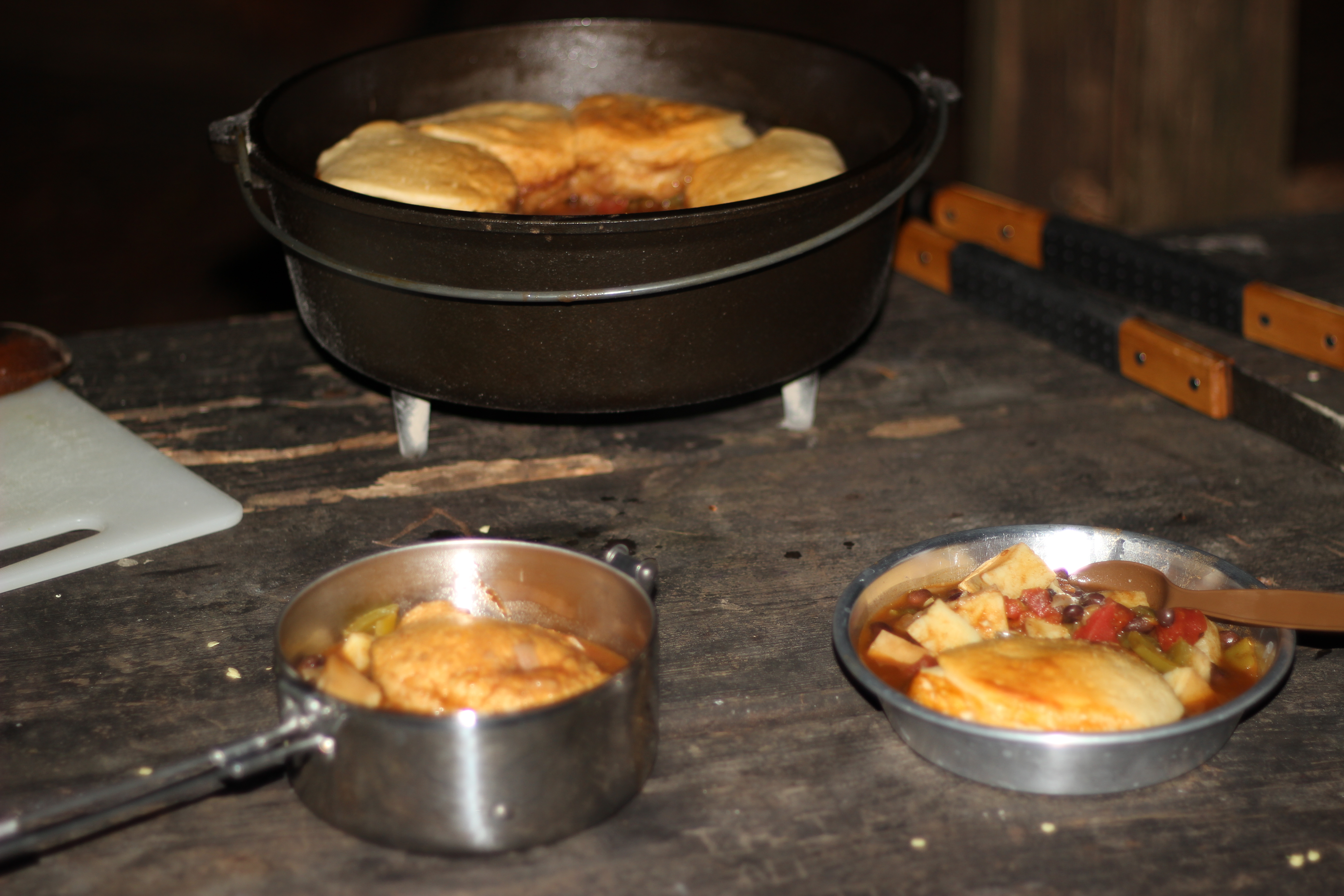 Alright, enough of that. About the food! The recipe is my adaptation of
this stew
. I had it with a crisp Blue Moon from the cooler. Yum!
Spicy black bean and sweet potato stew with biscuits
Serves 3-4. Uses 12 inch, 6 quart dutch oven.
2 TBS olive oil
1/2 large yellow onion, diced
1 jalapeño pepper, seeded and diced
2 anaheim or hatch chili peppers, seeded and diced
2 cloves of garlic, minced
1 sweet potato, cut into 1/2 inch cubes
1 TBS ground cumin
1 TBS chili powder
2 tsp dried oregano
2 (15 oz) cans of black beans, drained
2 (15 oz) cans of diced tomatoes with their juices
3 cups chicken or veggie stock
Salt and pepper
1 tube refrigerated biscuits
Place around 3 dozen coals in the fire pit, squirt with lighter fluid, and light. Let burn for 15 to 20 minutes until gray. In the meantime, chop the onion, peppers, garlic, and sweet potato.
Place ~20 briquettes in a checkerboard pattern on well cleared ground. Set dutch oven over coals and heat the oil for several minutes. Add the onion and saute until translucent. Add remaining vegetables and saute for 3 minutes. Add spices, stir, and cook for a couple minutes while opening cans. Add drained beans, tomatoes with juice, and stock. Bring to a strong simmer or boil. To increase heat, remove ash from the existing coals (with the lid on!) by tapping them with tongs or blowing, and add briquettes from the fire pit if necessary. Allow to simmer for 30-35 minutes until sweet potato chunks are just soft; again, periodically removing ash to maintain heat.
When potatoes are nearly done, finish stew with salt and pepper to taste. Place the biscuits on top of the stew. Cover with lid and place remaining (~16) briquettes in a checkerboard pattern on top of the lid. This will allow the dutch oven to work like an oven (heat from top and bottom) instead of just a stove-top pot (heat from bottom). Bake biscuits for 10 minutes or until golden brown on top. Be careful with the ash when removing the lid.
Crack open an iced beer and enjoy!