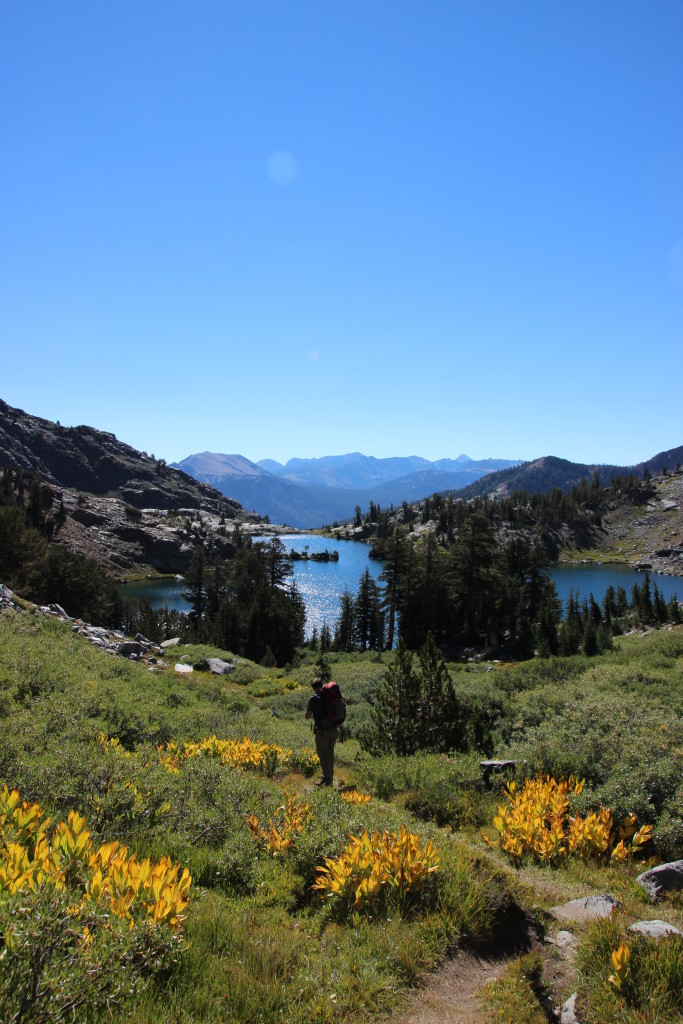 Useful Info:
Length: 23 miles round trip
Elevation Gain: Day 1: ~2600 ft, Day 2:- ~2000 ft, Day 3: ~560 ft
Difficulty: 8/10
Terrain notes: dirt trail, large boulders on off trail portion, navigation needed for off trial section
Cost – $5 per person + $6 online reservation fee for permits, $14 roundtrip per person for shuttle to Reds Meadow

Useful Links:
Reservations (note: book reservations based on the day and trail you will use to enter Inyo National Forest)
Mammoth Weather report
Shuttle Route
Devil's Postpile
Another hiker's photos
It was a tough call, but this Mammoth Lakes trip was my favorite of 2014 (and that's saying something since I ticked off long time bucket list hikes like Half Dome and Sykes Hot Springs in this busy year). The 7 pristine lakes, the challenging off-trail scrambling, the view of the Milky Way over our tents and more, put this trip to the top of the list.
The trip was a 3-day, 2-night loop covering ~23 miles. The mileage was evenly distributed for between 7 and 8 miles a day. The route is shown at the bottom of the page.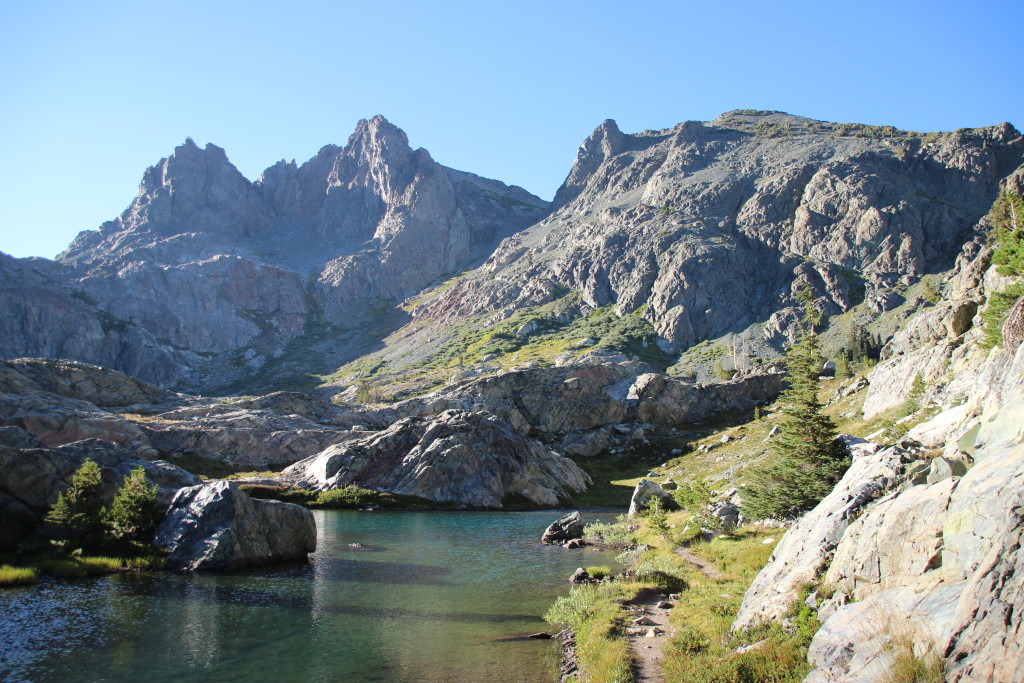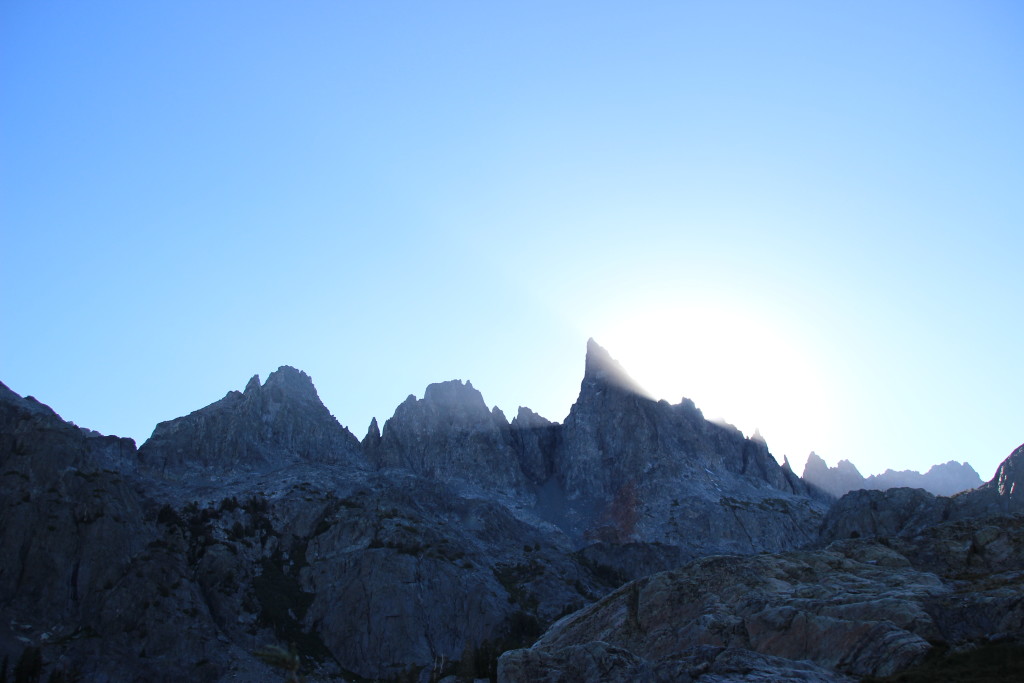 >> Day 1:
We started from the parking lot of Mammoth resort and took the (mandatory during the day) bus down to Devil's Postpile which is a fascinating geological phenomenon that we stopped at on our way out. You can see the side of Devil's Postpile from trail. The views of pretty meadows began pretty immediately, followed by the climbing. Our destination for the first night were the jagged and stunning Minarets, and our first lake. To be honest, the hiking on the first day was kind of a blur. The trail gained elevation on rocky ledges, past crystal clear streams, and with partial shading from distinctly high-elevation trees. Finally, we snaked up a hill and saw a glimpse of lake! Finally! A little while later we were at our intended camp: Minaret Lake.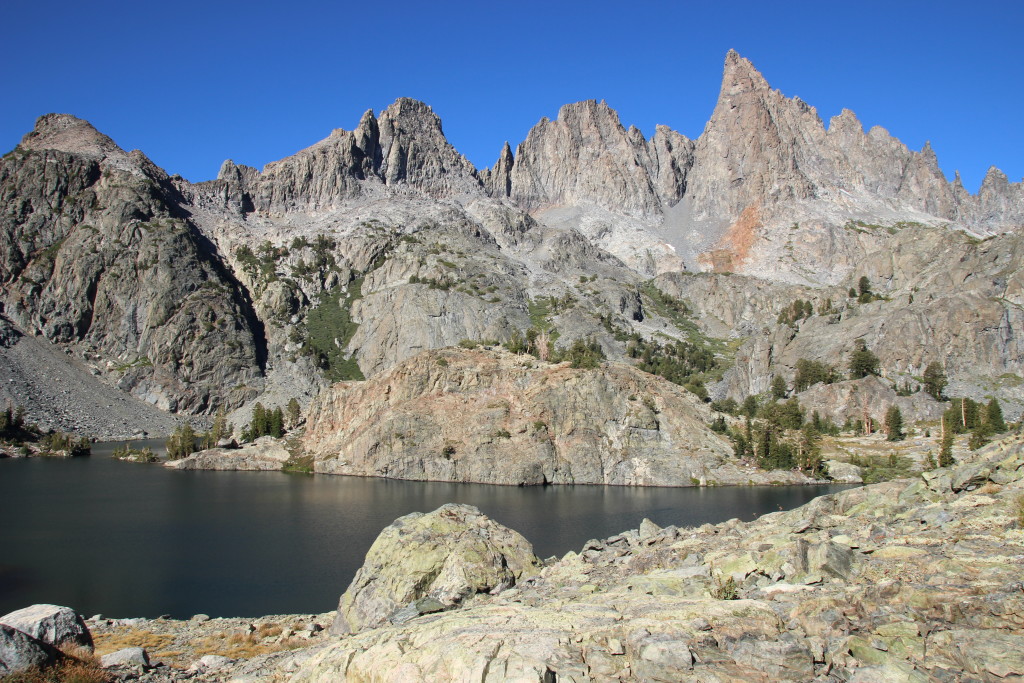 The Minarets rose over our tents. The lakes nearby were deep pristine blue. Then came the stars! At this elevation and distance from civilization there were so many stars. Our conversation kept being interrupted by someone spotting a shooting star and just when it seemed like it couldn't get better the Milky Way became visible. We all agreed that we could have spent all 3 days on just this leg by packing in, making camp night one, day hiking and returning to camp night 2, then packing out. I would gladly have bummed around exploring and then spend another night here, but we wanted to do the intended loop so we made the most of this night.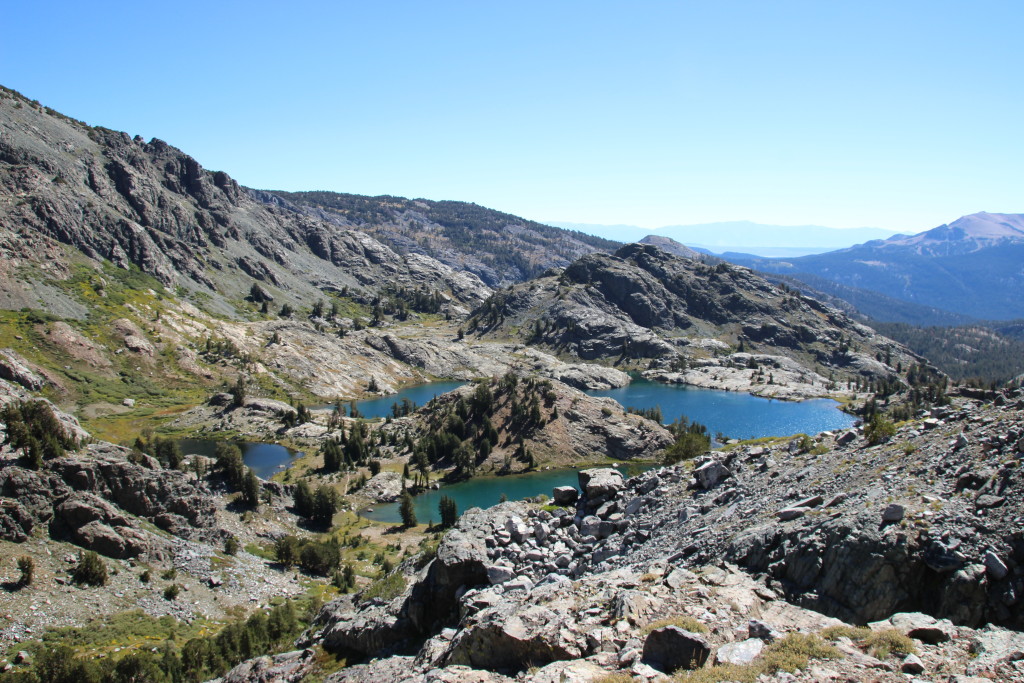 >> Day 2:
In the morning, we broke camp. This was our day to do what we thought was a bit of off-trailing. It turned out to be a bit more than a bit! We skirted the edge of the lakes near camp and our first challenge was to pick our way up the steep but lovely hill in the photo below. On our way up we spotted a Pika! My first sighting of this adorable high altitude rodent! From the top there were awesome views of where we had just come from. This would also have been a great day hike and photo-op if we had been camping near the Minarets a 2nd night.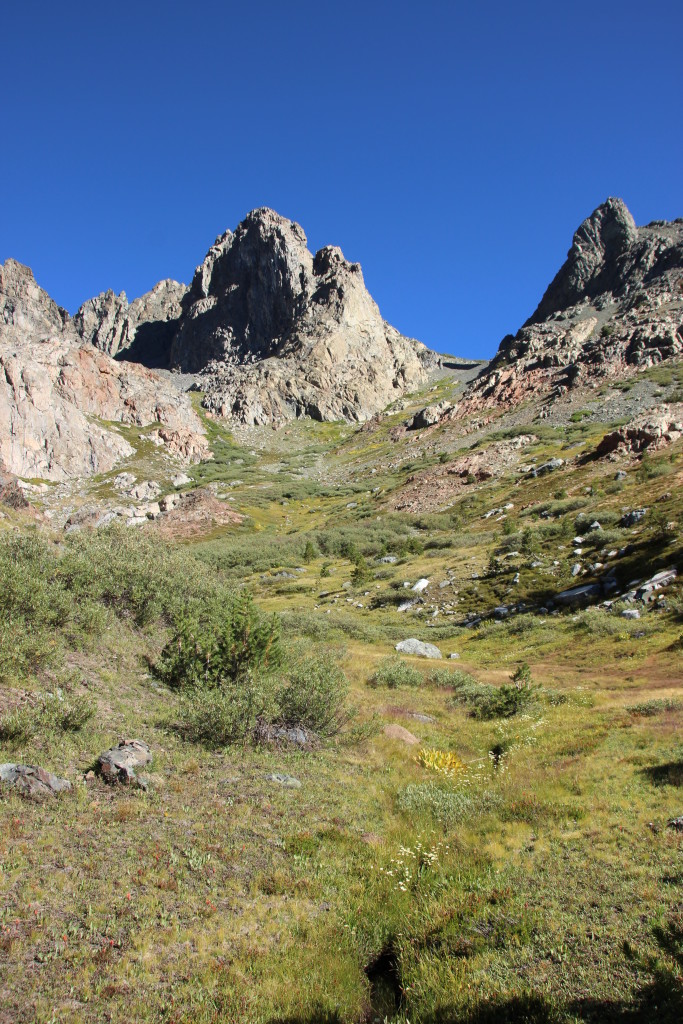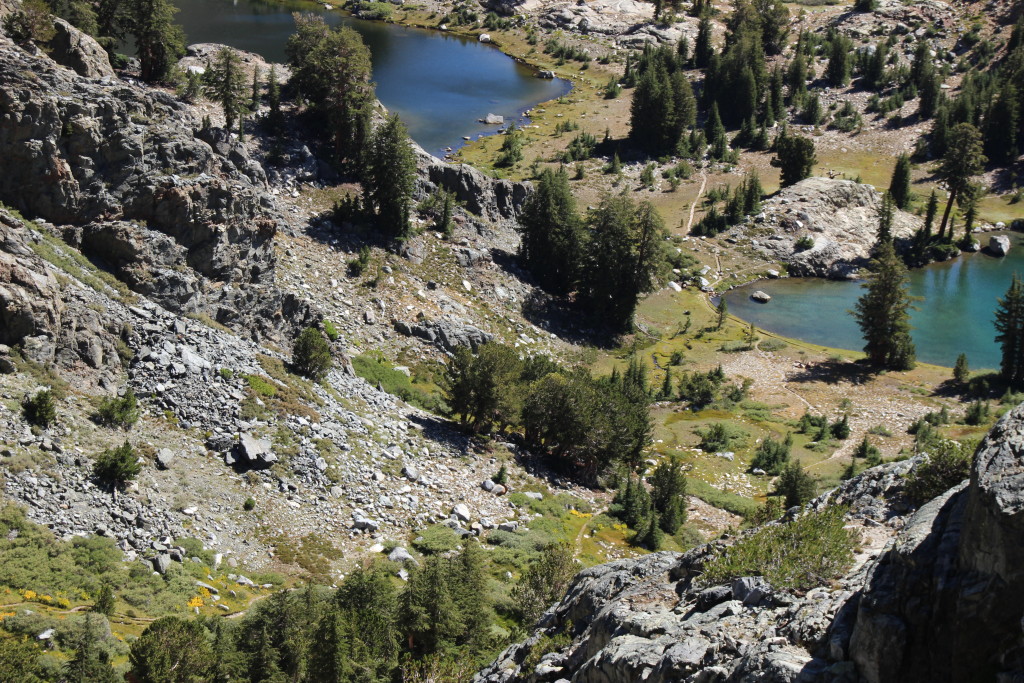 Our next challenges were to off-road around Cecile Lake and then climb another hill from which we would descend down and around Iceberg Lake. The boulders around Cecile Lake were large and cumbersome to navigate especially with a heavy pack, but we all pick our way at our own paces eager to reach the trail for Iceberg Lake again. As it turned out, the "trail" around Iceberg was not much better. We headed down toward the lake, which is basically water in a bowl-shaped set of mountains, and then cut across the steep side of the "bowl". We were fortunate that there was no snow remaining on this side, but the rocks were loose in some places and contained leg sized gaps in others. But we made it! Later on the trip, while cheerfully giving the trip planner a hard time, we would reminisce about these adventures and name the paths around Crystal and Iceberg lakes "The Minefield" and "The Slip-and-Die" respectively.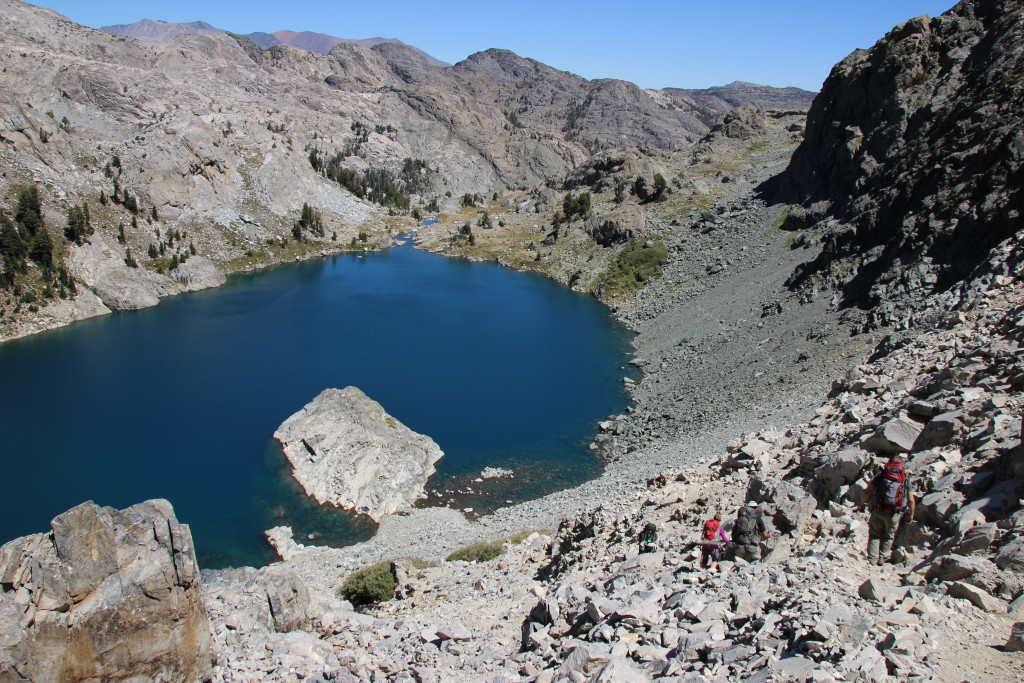 Having survived them we finally reached a bit of flat and then some easy winding down to Ediza Lake which was the perfect spot for lunch and an awesome/frigid swim! Refreshed, we continued on to Shadow Lake. We were then only one hill away from our campsite for night 2 on the shores of Rosalie Lake. Up and over! Nice and easy right? Wrong. So wrong. I didn't know it at the time, of course, but this hill should be the namesake for this blog. So many switchbacks!! It seemed endless but what can you do except overcome them. It was worth it too for the lakeside real estate we found at Rosalie.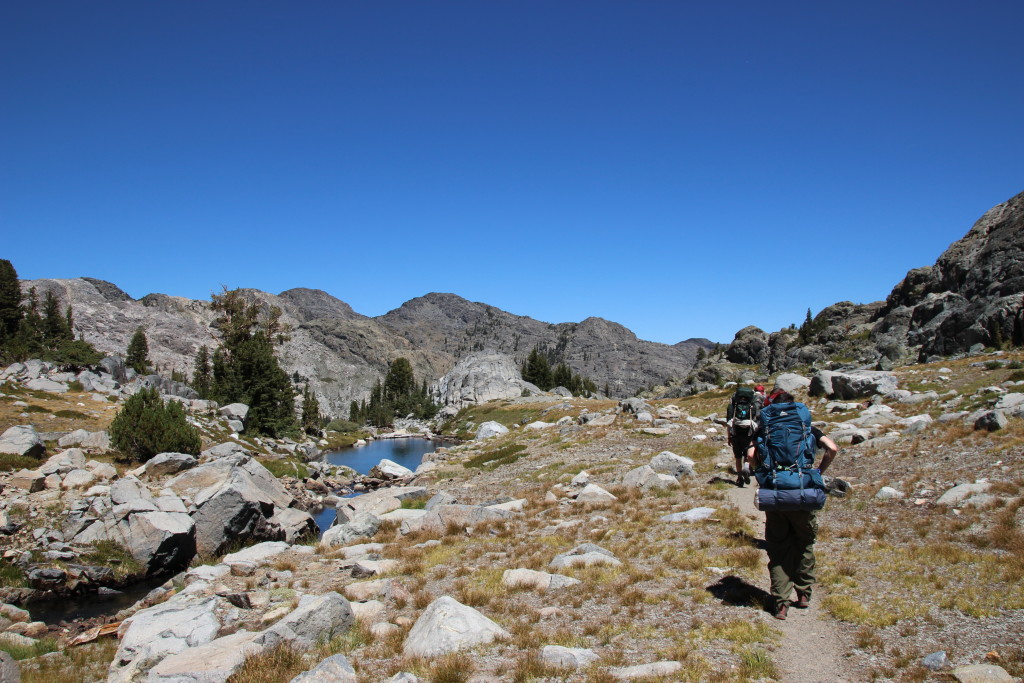 >> Day 3:
Our third day was probably the most relaxed segment of trail. We headed away from the lake and through some stoney and forested areas back down in elevation. Eventually, we met up again with the original trail by Minaret Creek. Tired as we were, we forced ourselves to visit Devil's Postpile because we knew we'd regret missing it and then we headed home with one more incredible backpacking trip under our belts.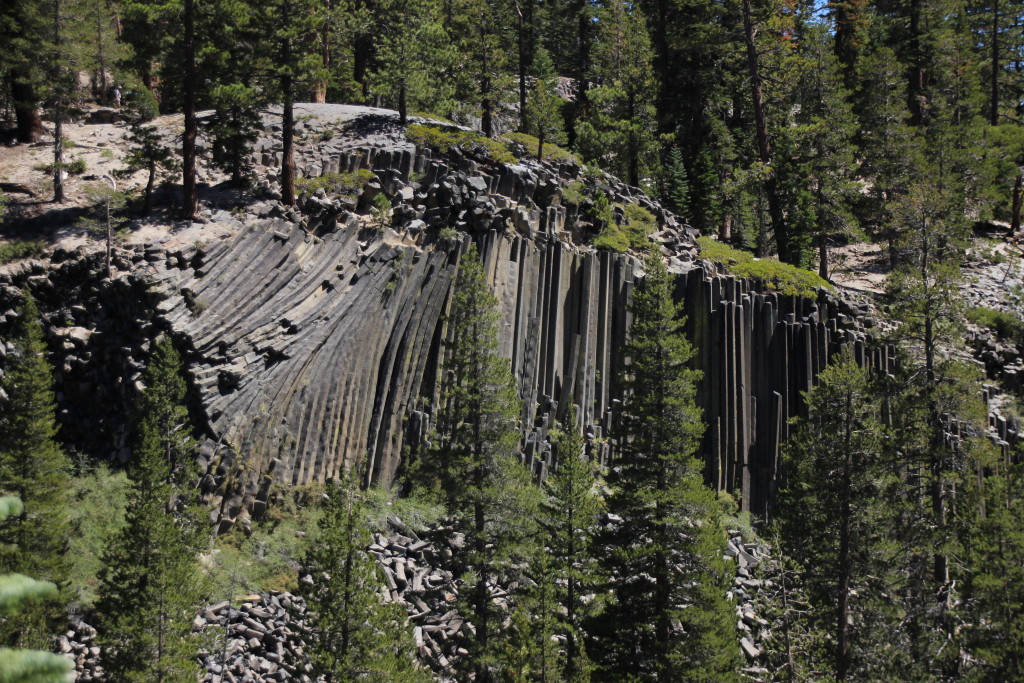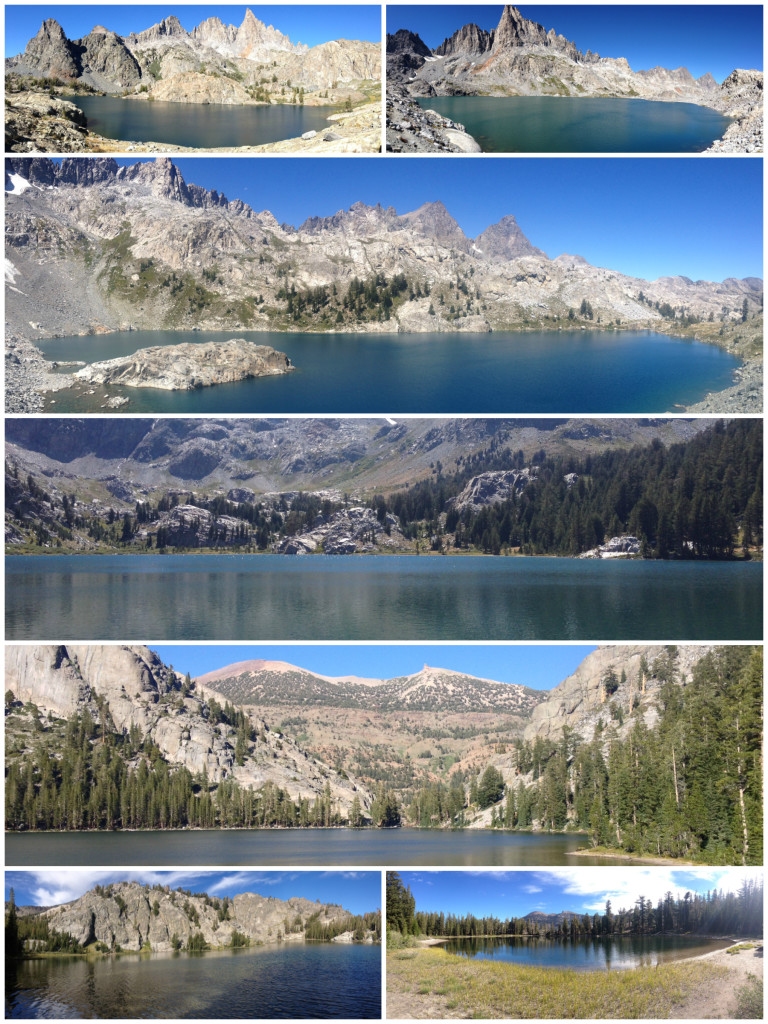 I can't really do justice to how it feels to be out among these lakes under the watch of these peaks. Maybe the photos can do a slightly better job. Really, though, all I can say is get out there! Go here! You won't regret it.